Iván Göncz
Drums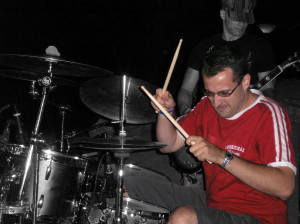 How I got close to music? Well, I have always been really zealous for music itself, as well as creating music. As far back as 1986, I was already thrumming the beats of the first Ossian album on my knees, however those days I rather wanted to become a guitar player because they looked so great on the stage :)
Then in 1994, when one of my classmates bought his first guitar and launched a band with another classmate, I didn't stop bothering them until they took me in as a drummer. My first kit was made up of a small indian drum and two long pencils. I started off drumming on it in the heavy metal band called Black God, which was my most serious and successful band up to now, even if we look at it's popularity or the number of gigs we have given.
Since then I played in many other formations, such as Perfect Unity which held me spellbound due to the wondrous musical talent and the brilliant composing ability of the members. I do hope to get an opportunity to play with them and with many others in the future because I feel that both music and the stage will always be inseparable parts of my life.
Apart from music, I mostly try to find my way about the labyrinths of law but I also like jogging, reading etc...